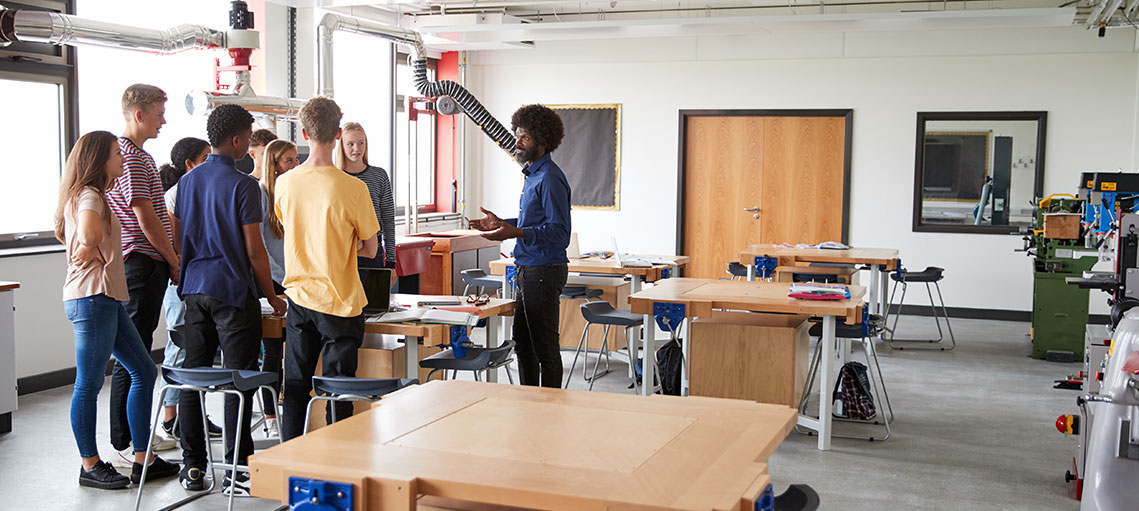 I became a STEM Ambassador around 3 years ago when I started my own recruitment business Kaizen. In my previous career for 12 years with Michael Page, where I was a founding member of its Engineering & Manufacturing division, I saw first-hand the shortages of talent coming into the sector.  
It shouldn't be a surprise that the manufacturing sector, based on STEM skills, is vital to the UK economy – it generates 45% of UK exports. However, despite its importance, the sector has an annual shortfall of 59,000 people.
To ensure the UK has a sustainable pool of talent, manufacturers and companies reliant on the sector must share the responsibility to inspire, educate and support the next generation.
I admit that I found it difficult to find the time prior to running my own business, and in my previous firm it was not encouraged to focus on anything else apart from the key company objective – making money. However, I would encourage you to use whatever time you have available to support schools and pupils of any age. I have found it personally rewarding to contribute to the future of manufacturing, even if it is just a tiny bit. We can all help inspire young people to pursue career paths in manufacturing by bringing activities into learning contexts to enhance the STEM curriculum; and we can also provide advice, and explain the virtues of the sector, to guide them into the industry.
In support of this, recent guidelines for schools from the Department for Education encourage educators to engage with companies. The guidelines state, "STEM subject teachers should highlight the relevance of STEM subjects for a wide range of future career paths… Schools should engage fully with local employers, businesses and professional networks to ensure real-world connections with employers lie at the heart of careers strategy."
How to engage
However, most companies are not equipped to just 'engage' with schools. The world of schools and education can be hard to understand from the outside. And the 'outside' world of companies and manufacturers can be equally complex for teachers.
While engaging with schools may seem a daunting prospect to get off the ground, it is in fact quite straightforward. From the outset, any organisation or individual wishing to work with schools has some initial issues to clarify – including levels of engagement or commitment; target age groups and identifying target schools. As a first port of call I would recommend initially contacting your local STEMnet hub to get advice or even to become a STEM Ambassador.
Some basic guidelines to simplify the process:
Age group
Decide what age pupils you are targeting. 
Level of engagement
Determine what you are offering – a one-off visit with activity or a series of visits.
Identify a school
Your organisation may have an existing outreach programme or connections with a local school.
Canvass employees – there may be school governors or members of a PTA, or parents who can recommend a school and provide a contact.
Contact your local STEMnet hub, which may be able to identify local schools.
The right contact
This will vary from school to school.
The teacher could be in charge of design and technology, science, physics, all STEM subjects, or even be responsible for liaising with outside organisations.
It may be worth starting with the Head Teacher.
Again, I started with STEMnet who have put me in touch with different schools and youth organisations.
National Curriculum
Discuss with STEMnet or with the relevant teacher to establish that your proposed activity is relevant to the school curriculum.
'Sales points'
When you are approaching schools or STEMnet, make it clear from the outset what you can offer and, if specific, the particular activity you have in mind and how it may benefit the children.
Hands-on projects
Many schools are limited in the hands-on engineering/ technology experiences they can provide, so provision of practical hands-on activities are popular.
Statutory compliance requirements
These include Disclosure and Barring Service (DBS) clearances for employees going into schools, which can be obtained direct or with the STEMnet organisation, where the check is free (The individual becomes a STEM Ambassador and receives some basic  guidelines on working with children)
Public liability insurance and risk assessments will be required for your activity.
Parental permissions will also be required well in advance if you intend to take still photo or video footage for promotion in any medium. And it's a goodwill gesture to share your photos with the school.